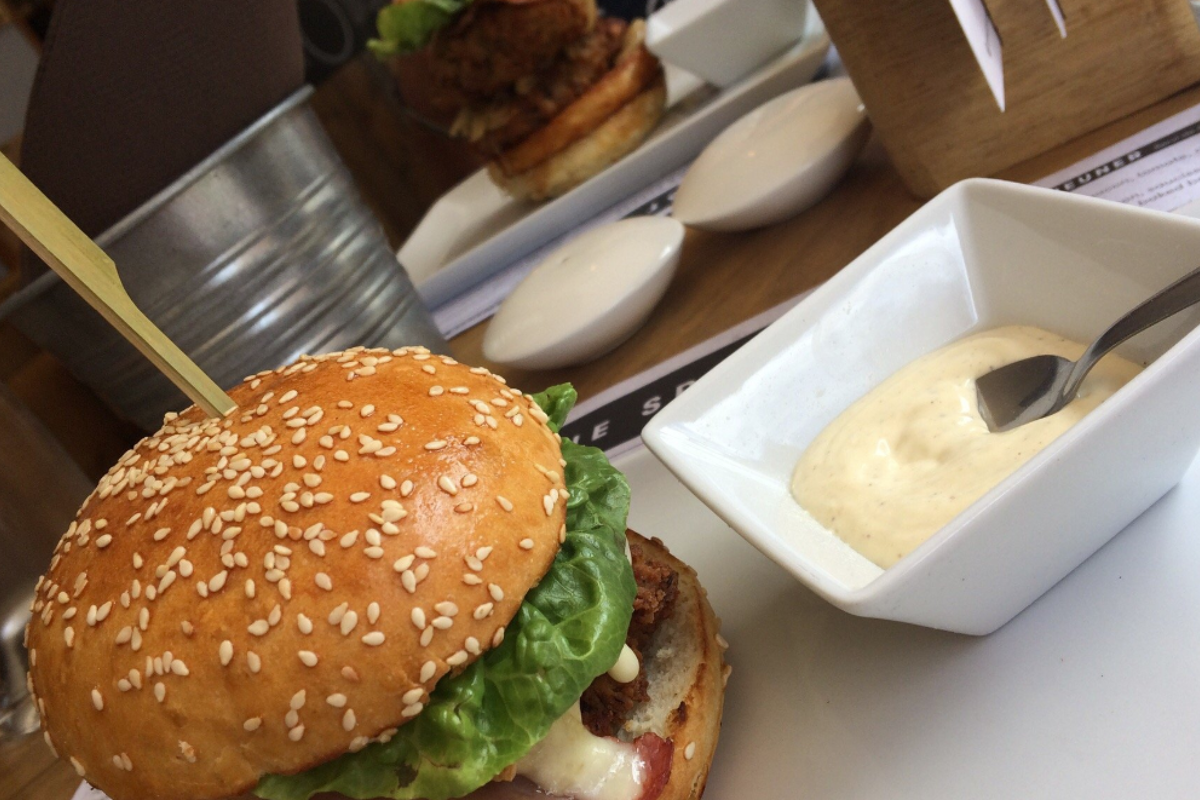 Best burgers in Les 2 Alpes
Check out all the best burger choices in the resort this winter
From takeaway snack to gourmet delight, the humble hamburger is as varied as it is ubiquitous, and nowhere is that more true than in Les Deux Alpes.
Here we walk you through the best meat-filled (and sometimes veggie-filled) treats the town has to offer.
Quality pub food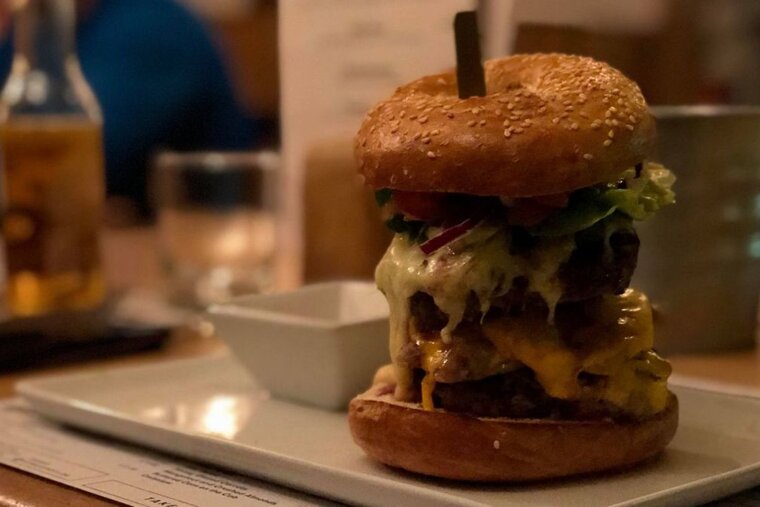 If you want a great British or American style burger in a decent bar-restaurant, there are two obvious choices in Les Deux Alpes: Smithy's and The Spot.
Smithy's Restaurant is upstairs from their lively late-night bar and has a much more relaxed ambiance. The burgers on offer here include classic beef, chicken and veggie combinations, as well as some that only just qualify as burgers. I went for La Maman – sliced, pepper-crusted fillet steak with mushrooms, mozzarella, rocket pesto and roasted tomato chutney. If you are not looking for a burger, Smithy's serves a good choice of chargrilled and Tex-Mex dishes too.
My personal favourite for burgers is The Spot. Now in its fourth year, the 'Build your own burger' menu has been a success from day one. Fill in the provided form with your choice of bread, patty(ies) and other fillings from a long list of options, then let the chefs create your masterpiece. There are a few ready-made burgers if you are not feeling inspired but building your own is much more fun. Take the time to name your burger and you could win the burger of the week competition for a free meal. The menu also includes pizzas, steaks, fish and veggie options.
For a no-frills pub-grub burger, you could do worse than the Red Frog – a popular French-run Irish pub at the Venosc end of town. The menu is simple and tasty, featuring burgers, fish and chips, and English breakfast among the highlights.
American Diners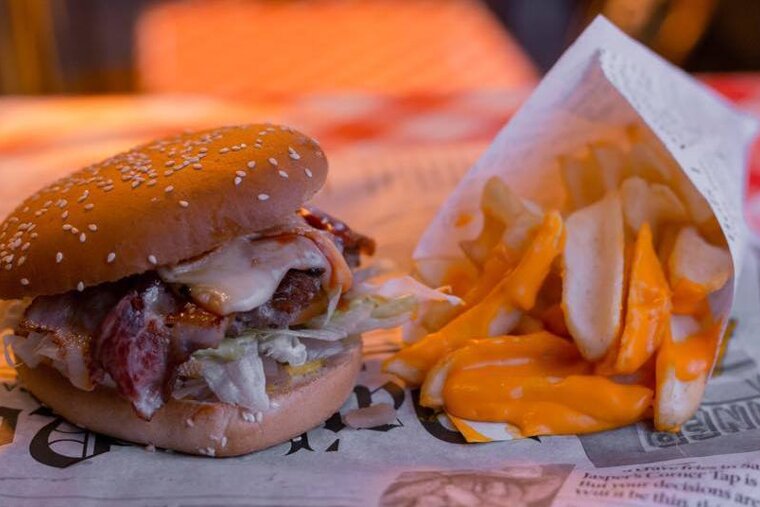 If you are looking for a more authentic US style burger, two new American style restaurants have opened for this winter and last.
At the Venosc end of the main street, Boris Burgers has a fantastic diner ambiance, a glass-covered seating area and a rock 'n' roll soundtrack. Foodwise, the menu is dominated by classic US burgers and hot-dogs. Boris himself is a well-known figure in town, having run the Avalanche Discotheque for the last 20 years, and his foray into fast food has been very well received so far.
The new Saloon Bar in the main square is also going for an American theme, with guitars and memorabilia adorning the walls. Alongside the good-sized home-made burgers, there are steaks, tapas, pizzas and Tex-Mex.
Gourmet French burgers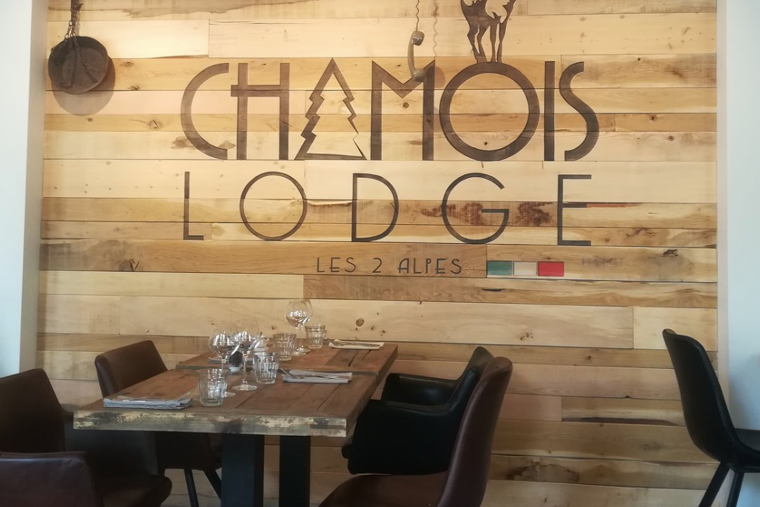 Burgers don't only come from the more British and American venues. The local French restaurants do some very classy mountain influenced burgers too, usually including classic Alpine cheeses. The Grain de Sel is well worth a visit and there is plenty on the menu besides burgers. A nice touch is the individually made collage menus – every one is different. If your table is not ready when you arrive, there is a wonderfully cosy cave corner where you can enjoy an aperitif while you wait.
New last year, and definitely oozing class, the Chamois Lodge is edging towards the upper end of the market in town. The attention to detail in the refurbishment of the old Hotel Chamois has been superb. The menu is full of gourmet French cuisine, and it includes a couple of very nice burgers.
Slopeside takeaways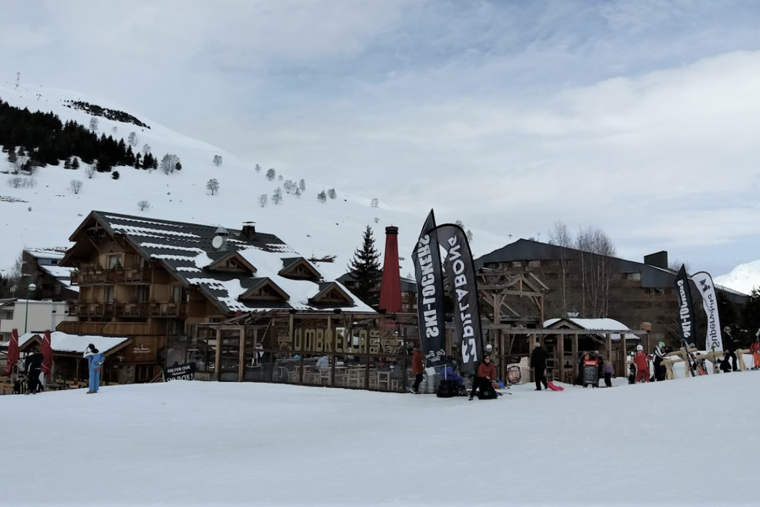 If you fancy a quick bite to eat without straying too far from the skiing, there are good takeaway options at the foot of the pistes. The fast-food hut at the Umbrella bar and Kid Burger by the Viking lift both offer good value food for those in a hurry. Either spot is ideal for soaking up the sun and watching the skiers on the beginner slopes.
High-street fast food
For fast food off the slopes, there is lots of choice near the centre of the resort. Le Takeaway has three outlets on the main street, named Diner, Pizza and Burger. The latter is the biggest of the three, and justifiably popular. Chalet Pizza on Rue des Vikings does a pretty good burger, despite the name, although eating in can be a bit squashed on busy days. Slide Planet ski and snowboard shop has a nice café at the back, with a good selection of burgers and a different plat du jour each lunchtime. For late-night sustenance, K's Croute is open well into the early hours.
More inspiration...
Whatever you are looking for in a burger, Les Deux Alpes will have something to satisfy your taste buds. You will never have to walk far to find a decent bit of meat in a bun.
Location
2 Alpes, Les 2 Alpes