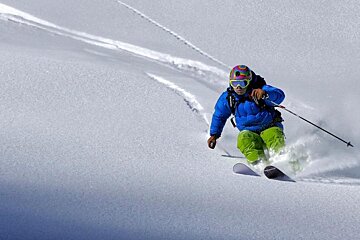 Skis guide
Get the right set up to suit your plans and style
We're excited for winter and numerous snow adventures, and a new pair of skis.
Every year a raft of new ski shapes and technologies hit the market and sometimes it's difficult to work out exactly what kind of ski to look for. Whether you're buying for the first time or your set up has seen better days, read our guide before you buy.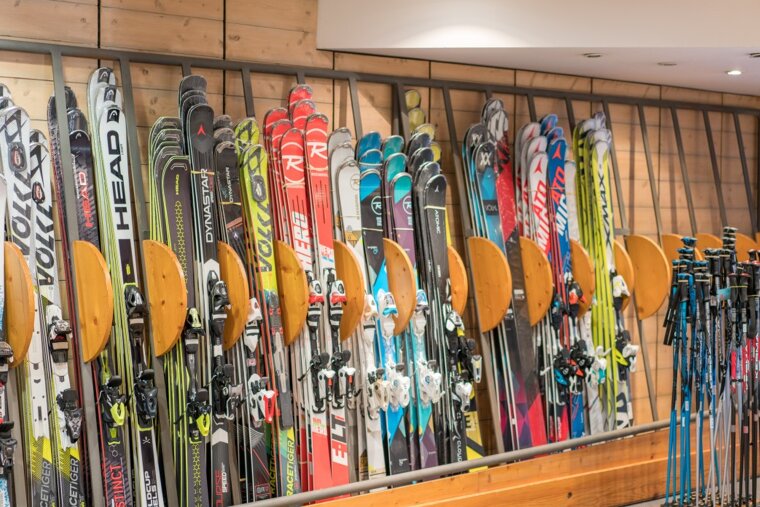 Buying in store
When it's time to hit the shops, here are some tips to take with you:
consider how often you ski, what type of skiing you do the most (park, bumps, powder, hardpack), your skill level and the kind of skier you are - fast carving on groomers, all terrain, or just want to feel secure in any conditions (be honest with yourself, this is a big investment)
all ski companies on the whole make great skis, so don't immediately go for that year's 'hot model', it doesn't make it the best fit for your needs/abilities, and take the time to demo as much as is possible
choosing the right model will depend on your budget and the performance you're looking for
ski length is as subjective as ever with today's technologies and rocker profiles, but height, weight, ability and skiing style should all be considered when determining the length.
skiers today basically have three options with length: chin, nose, brow, so beginner skis should reach from the floor to the chin, intermediate skiers should choose skis from the floor to their nose, and the more advanced aggressive skier can handle skis that reach from the floor to their eyebrows.
the longer the ski the more stability, but they can be harder to manoeuvre, whereas the shorter ski is easier to manoeuvre but offer less stability at speed
width is determined by how much flotation, versatility and hard-snow precision you're looking for - results of most studies show that 80% of the skiing public spends 80% of their time on groomed pistes, so the trend for wide skis means the majority of people are skiing on skis too wide for them (more info below)
ski bindings are an important component, important for driving all energy and power into your skis, so don't leave them as an afterthought or just pick the ones that match
gender is important here, as women's skis are typically shorter and lighter, however, some companies use the same materials in all their skis and just make the women's range shorter with different graphics.
stronger or bigger women may prefer unisex skis, and smaller men may fare better with the women's model, and remember - a ski doesn't know how you identify, but it knows how much you weigh and how powerfully you drive it
go prepared to ask questions, and if an on-snow demo is possible definitely try before you buy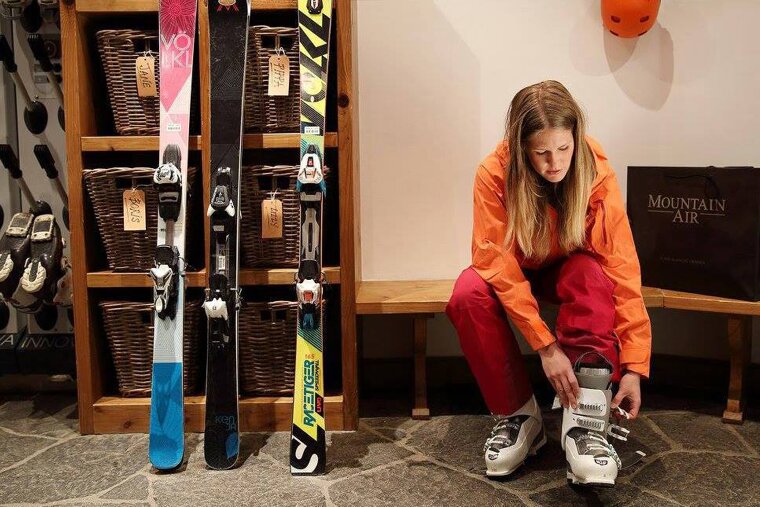 Buying online
Our advice for shopping online for skis is kind of like shopping instore, but there is a lot more self-assessment involved. Therefore, honesty is even more important. Don't shop for skis for the skiing you would like to do, rather than what you actually can do. Focus on waist width first, as this will narrow down your options and then you can focus on category (more of that below). For online purchasing things to consider are:
availability - don't do tonnes of research and get all excited about a ski that is sold out everywhere in your size
price - definitely something to consider whether you're buying second hand or new, it's all too easy for your budget limit to keep on rising
bindings - some skis come with integrated bindings, but if yours need to be drill mounted you'll need to know your boot sole length so they can be mounted before being shipped to you
colour and graphics - you may be skiing these skis for a few seasons to come, so you need to like the look of them
be patient - you may not land on the right skis for you as quickly as in-store with help from a shop assistant, but there's so much info online, so do your research and you'll feel more empowered
read reviews and buyers' guides
Range of skis available
Whilst your skiing ability and where you like to ski will be big determining factors on the skis you buy, what each type of ski means is worth knowing so you immediately know what category of skis you fit into.
All Mountain
As the name suggests, these skis are for skiing the entire mountain and this is by far the most popular type of ski. Designed to handle anything and everything you can throw at them, including powder, ice, groomers, steeps, heavy snow and everything in between, they are a jack of all trades ski, master of none. However, if you're only going to own one pair of skis, this is what you want. All-mountain skis generally have a mid-fat waist, and the key to them is to know where you'll ski most, as the category splits down into All Mountain (mainly off-piste) and All Mountain (mainly on-piste).
Piste or Carving
For those that like the classic feeling of arcing a perfect turn over an edge, then piste skis are for you. They have narrower waists and short turn radii. The beginner-intermediate skis in this category are designed to make learning how to turn easy, and as you progress they get stiffer, more powerful and more aggressive. If you like charging hard and only really ski piste, these are for you.
Park and Pipe
Often called freestyle skis, these are for skiers who mostly ski the park on jibs, rails, and jumps. This category is incorporating more rocker patterns and different shapes, and these skis are mostly always twin-tipped with thicker edges. If you're into big kickers and booters you'll want a slightly longer ski, if jibbing is your thing then go shorter.
Powder
Designed for pow-pow days, these skis are wide and most often have some form of rocker plus a relatively soft flex. The tip and tail are not always the widest parts and many are versatile enough to handle mixed conditions and harder snow.
Big Mountain
For charging big lines at high speed with big airs. Vary in width, these powder-oriented skis are for ripping up the headwall at your local mountain. They are stiffer often with more rocker in the tip than the tail.
Touring
Touring skis are as much about the up as the down. These skis incorporate lightweight constructions with cutting edge technology to ensure they work as much on the uphill as the down. They come in a huge range of sizes and widths designed for different styles of touring.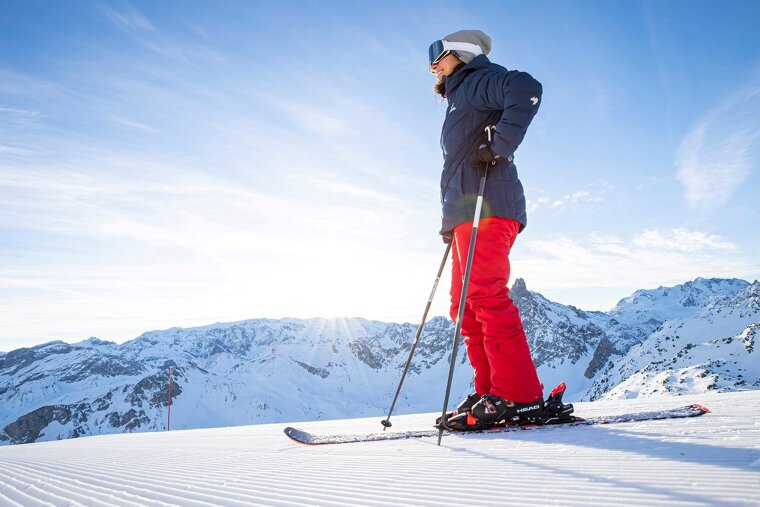 Technologies to know about
When buying your first skis, you must first consider the ski shape. In the past all you needed to think about was the length, but now technology has moved on in great strides. Basically the shape of your ski helps improve your skiing based on the terrain and style you are skiing, so it's important to understand. There are three main types: camber, rocker, and flat. Many modern skis give a combination of these.
Camber
This is the traditional profile for skis and snowboards and is the slight upward curve in the middle of the ski when it's laid flat. There are many different types of profiles, depending on the style of skier you are will depend on the camber you would want/prefer. Camber offers precision on groomed terrain with harder snow, as you unweight the ski at the tail end of the turn, cambered skis rebound to the natural profile, propelling you into your next turn. Skilled skiers often prefer camber in the skis to deliver more 'pop'. If you ski mostly in resort you'll probably want a ski with camber for optimum grip and stability on hard snow.
Rocker
Also known as reverse camber, it is camber turned upside down, with the curved rise of the tail and tip on your ski which helps lift the ski out of the powder. If you have less rocker it is more of a challenge to turn in soft snow versus an increase in playfulness and manoeuvrability and the ski's performance in deep snow. It also allows for less edge catching and faster turning. This profile doesn't perform well in icy conditions and on harder snow, but if you spend lots of time in deep, untracked snow then rocker is a great choice.
Flat
It is a ski that is flat when laid on a table, you won't see any air, and is more commonly a shape for snowboards than skis as it helps with manoeuvrability more than camber.
Sidecut
Refers to the inner curve of the ski and is often expressed as a radius (in metres). It's crucial to consider this when buying your first skis, as the deeper the cut the tighter you'll be able to turn. Skis with deep sidecuts are great for slalom, but will be less stable at speed. A less deep sidecut allows skis to make long fast arcs and keeps them afloat and closer to the surface.
Carbon
Carbon is used whenever stiffness is required without the expense of weight. It's often used in the core of performance orientated skis.
Waist width
A ski's waist width is the main attribute that defines how quickly the ski will go from edge to edge. A ski with a narrower waist will be quicker edge to edge and more at home on the hard snow of a groomed piste. A wider waist width provides the ski with increased float in powder and will also tend to increase stability in chopped up, difficult snow conditions.
Width - what else to know
As the narrowest part of the ski, this is the place all ski model decisions begin. Here's a quick breakdown of the common ranges and what they are best for:
<80mm
This width is for skiers who are solely sticking to the piste. Great for carving, they transition quickly and easily from edge to edge.
80-89mm
Offer great speed and control on-piste, plus a little more capability in the powder. If you mostly ski on-piste and occasionally drop into the trees, this is the width for you. You'll get some float in the new snow, but you won't compromise your piste skiing.
90-99mm
Perfect for those that love piste skiing as much as off-piste. You can hold your lines on-piste but you'll have much more fun in the choppy and powdery conditions. An ideal width if you like backcountry.
100-105mm
Great for powder hounds, but you'll still feel stable on-piste.
105mm+
These skis are designed for powder and perform best in the deep snow and backcountry bowls. Not ideal piste skis in any sense.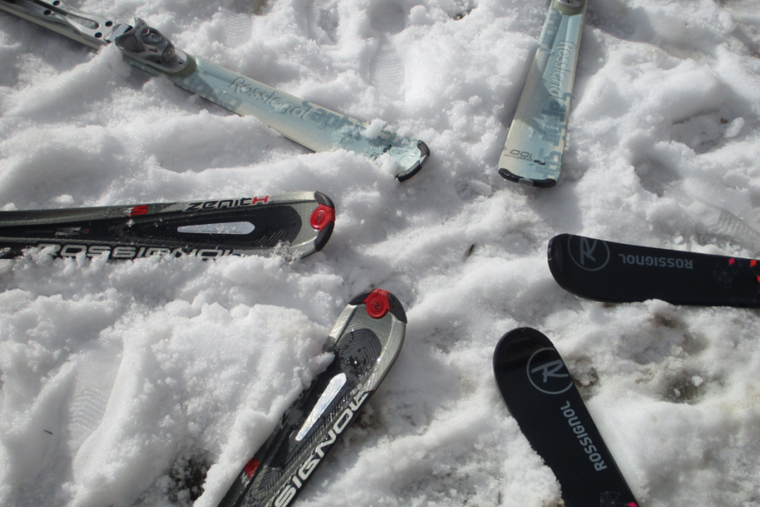 So what brands should you look for?
Whilst there are a number of brands out there making skis, these are the ones that have stood the test of time, kept up with the latest technologies and trends, and therefore stand out as worth looking at:
ROSSIGNOL
Born in the French Alps in 1907, they went from small local wooden ski maker to having over 8,000 pairs of skis leaving their warehouses every day by the 1980s. In 1987, they launched their first snowboard attracting the likes of Jonas Emery, JF Pelchat, Travis Rice, Xavier de Le Rue and Jeremy Jones to the Rossignol snowboard team. In the nineties their Bandit and Scratch ranges would help invigorate the era of freeskiing and to this day their team riders win numerous medals. For those of us looking to emulate our heroes they offer a wide variety of alpine skis, and luckily for us their technology and innovation trickles down from the very high-end lines through to even the beginner designs. Their skis are typically well made and noticeably high-quality. ROSSIGNOL website
VÖLKL
Founded in 1923, they are one of the last remaining manufacturers in Germany. They combine traditional craftmanship and high-tech innovation creating high-end skis, surprising the ski world in the sixties with the now legendary zebra ski pattern. The industry mocked, the public loved them. In the seventies they made moves into the world of alpine ski-racing and have won numerous World Cups, World Championship titles and Olympic medals. Their solid reputation is in carving skis that hold an edge nicely, they are known for their durable and reliable builds that generally target expert skiers and off-piste lovers, which is why some beginner skiers may find them a little challenging to control. VÖLKL website
HEAD
An American-Austrian sports equipment company known for its iconic tennis rackets. In 1947, Howard Head designed the first metal ski, and three years later the HEAD Ski Company, Inc. was founded. Coming into its own in the sixties, when Olympic ski champion Jean-Claude Killy signed with them endorsing a new metal and fibreglass ski: the Killy 800. They went on to launch a whole range of skis and today they consistently deliver quality product that skiers of all levels like to use. HEAD website
NORDICA
An Italian winter sports brand founded in 1939, creating boots initially, this remains the main stay of their business. Their skis are produced with an emphasis on versatility, providing the perfect blend of playfulness and performance. Their skis are well built, durable and great value for the technology you'll have beneath your feet. NORDICA website
ATOMIC
An Austrian brand founded in 1955, that has helped define skiing for all levels, producing around half a million skis a year. They created the first powder ski more than 30 years ago, and are very popular with recreational skiers as well as competitive athletes. Currently Atomic manufactures just about every style of ski for every style of skier. They continue to invest in technology and apply it readily to their products, which is why you will see many Atomic skis on the mountain. ATOMIC website
K2
Founded in 1962 in Washington state, they expanded into making snowboards in 1987, and are the first company that specifically engineered products for women, starting in 1999 with K2's Women's Alliance. Arguably the most recognised US brand, they are credited with creating the first fibreglass ski. Every product is well researched, well designed and its range of offerings caters to all levels from beginners to experts. K2 website
FISCHER
One of the world's leading brands and a global leader in Nordic skiing, Fischer Sports GmbH was founded in 1924 in Austria. Known for innovation and cutting-edge technology, they also are the biggest manufacturer of ice hockey sticks. Fischer's success with ski manufacture is in making power models that are ideal for those with technical skill that like speed - not necessarily targeted at beginners. FISCHER website
BLIZZARD TECNICA
A favourite with advanced and expert skiers, this Austrian sports company was founded in 1945, and is currently a division of the Tecnica Group S.p.A specialising in skiing equipment, specifically skis and accessories. Its backcountry friendly skis and boots make it popular among the more adventurous skiers, it is a clear leader in the all-mountain market and is strong in the touring world too. BLIZZARD website
BLACK CROWS
With roots in Chamonix in the French Alps, this independent brand was founded in 2006 by two professional freeskiers, Camille Jaccoux and Bruno Compagnet. Named after the alpine chough, the black birds with yellow beaks and red claws, the company designs skis to tackle 'any and all downhill adventures'. Again not necessarily a brand for beginners, they are known for their high-altitude skis and their backcountry skis are considered some of the best on the market. Their immediate and well-deserved reputation makes them a brand worth checking out all the same. BLACK CROWS website