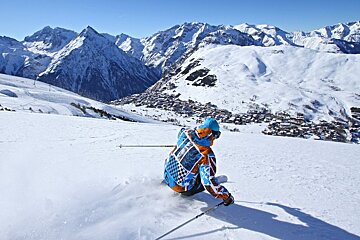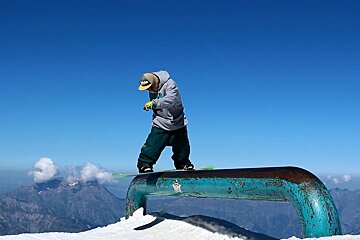 Ski area in Les 2 Alpes
Discover the best of the Les 2 Alpes ski area
Les Deux Alpes sits high up in the Oisans region, in the heart of the Ecrins massif with a ski area ranging from 1,300m to 3,600m altitude, where you'll find one of Europe's largest skiable glaciers.
The main things to know about Les Deux Alpes ski area are:
Guaranteed snow
Its high altitude location gives the resort snow-sure conditions most of the year round with accessible runs all the way up to 3,600m.
Great for families and beginners
A 'Famille Plus' resort, with dedicated facilities for those with young children or elderly relatives.
World class skiing
Fantastic off-piste terrain in Les 2 Alpes and neighbouring La Grave.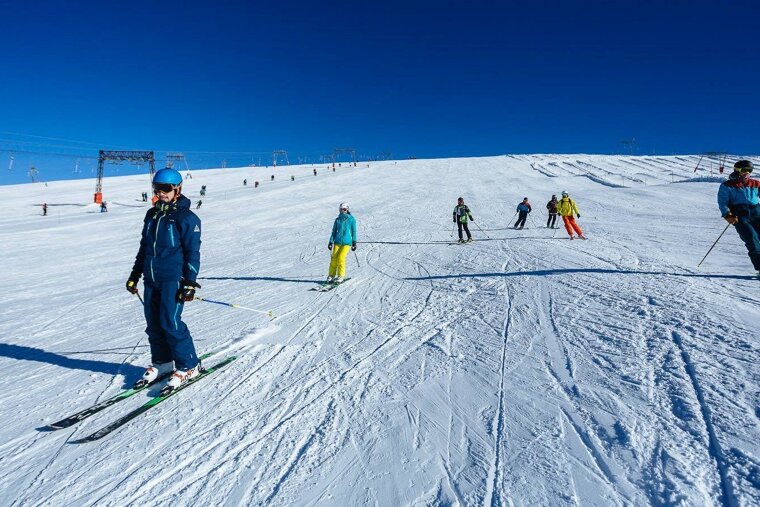 Les Deux Alpes ski area
Located in the Arrondissement of Grenoble, Les Deux Alpes has officially been a ski resort since 1939. Back then it had one tow rope, with real development not starting until the 1960s. Sitting opposite the equally massive Alpe d'Huez, the resort is built on the west side of the valley, now known as the Vallée Blanche sector. It rests on the Alpine pastures of two peaks (hence its name): l'Alpe de Mont de Lans and its southerly neighbour l'Alpe de Vénosc. Between these two peaks sits the resort, which is made up of one main village and two smaller ones. The main village ranges from 1,650m to 1,800m, to the north is the small village of Mont de Lans which has the lowest skiable point of 1,300m, and on the opposite side of the valley you'll find the southerly village of Vénosc at 950m. Each area has its own lift access to the skiing above, with much of the accommodation offering the convenience of ski-in, ski-out.
The resort has a total of 51 lifts, including the underground Dome Express Funicular and the Jandri Express, the world's fastest gondola. The ski area itself is broken down into seven sectors, covering 225km of groomed pistes with a maximum vertical drop of 2,300m, offering 17 green pistes, 45 blue, 22 red and 12 black. The resort also has the advantage of summer glacier skiing.
What's it like to ski and snowboard in Les Deux Alpes?
Known as an "upside down" resort, the easier slopes tend to be found at the top of the resort and include wide and forgiving glacier runs, and the steeper more challenging routes are found lower down. In recent years an intermediate level run was made to allow skiers to travel from the top to the bottom without having to face the more challenging advanced level runs. Alternatively, they can take the cable car down to the village.
The seven sectors to know about are:
The glacier - The highest domain in Europe with breathtaking 360° views. The runs from up here start at 3,600m going down to 3,200m, and they are perfect for all levels of skier. You can also visit the ice cave and take a selfie on the skywalk.
Toura - A snowpark located at 2,400m, accessible to all levels and the place to head for freestylers of all ages.
La Fée - This freeride zone sits at 2,400m and is linked to the glacier with the brand new eight-seater Pierre Grosse gondola.
Le Diable - Red and black runs at 2,400m, these runs are known as the 'big slopes' amongst the locals.
Vallée Blanche - Not suitable for beginner skiers, this east-facing area has a brand new 10-seater gondola, enjoys plenty of morning sunshine plus it has a snowshoe route.
Les Crêtes - Loved by all, you'll find some great blue runs here if you're a beginner, and it's easily accessible with numerous lifts up and down, plus there's a magic carpet.
Resort - The 'bottom of the slopes', aka 'snow front', has had a recent redesign to make it even easier for beginners to ski here and there's a brand new magic carpet and five free button lifts.
Also for a new experience you can go night-skiing on the Piste des Lutins for free every evening.
When is the ski area open in Les Deux Alpes ?
The winter season usually runs from mid-December to mid-April, with any early lift openings depending on snow conditions (check Ski Lift Opening Dates for this winter's schedule). Your holiday will be very much determined by the weather and snow conditions, and therefore the time of year you choose to visit is important. If it's sunny pistes and a cold glass of wine on a mountain restaurant terrace, come in March or April. If your perfect ski break is about quiet slopes and lots of fresh snow, then January is the time to come. Or if you want numerous activities organised for your children during their school holidays, February is for you.
Whenever you choose to come, as long as the lifts are open, the local pisteurs will make the best of the snow (real and/or artificial), and groom the pistes to perfection so that you get the best possible conditions.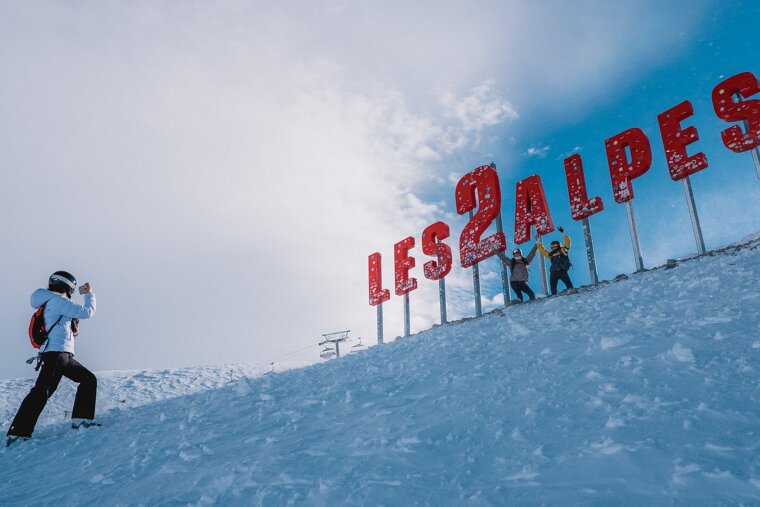 Beginner areas in [locality]
As a beginner in Les Deux Alpes it's easy to discover the entire ski area as they have numerous blue runs.
We can particularly recommend Jandri, a blue which starts at 3,200m and goes down to resort (1,650m), basically allowing beginners to ski almost the entire vertical from the top of the glacier all the way back to the village. At 16km, it will be almost an entire day of skiing or snowboarding for some novices.
Les Deux Alpes has a number of dedicated beginner zones or nursery ski areas, plus five free beginner runs in the lower part of the resort, and in total there are 14 green pistes and 49 blue split across each side of the ski area.
The five free lifts for beginners are:
Petit Bosquet
Limaçon
Coolidge 1
Coolidge 2
Vikings
The Viking carpet is brand new and covered, thereby allowing you to stay warm whilst you head (slowly) back up the piste.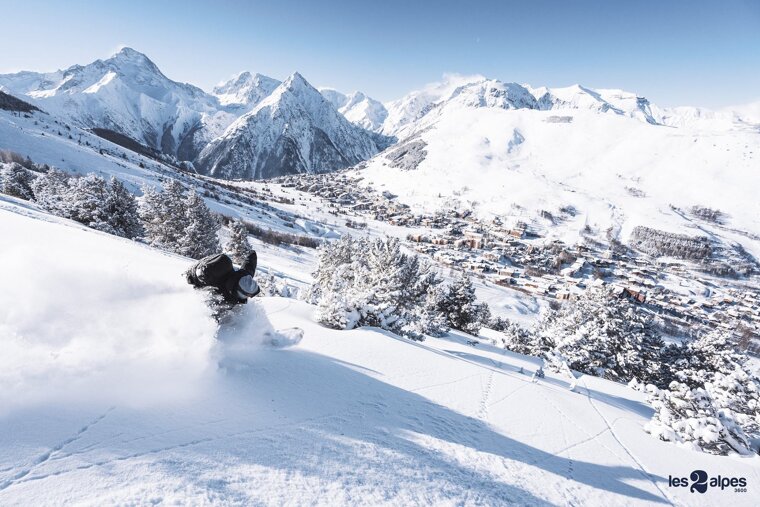 Advanced areas in [locality]
Les Deux Alpes has a large selection of skiing for advanced skiers and snowboarders. It has a good range of red and black runs and with the glacier skiing and overall altitude of the ski area, you are likely to find a challenge somewhere in resort.
Some of the best (and steepest) black runs include the run down from Bellecombes chair, and the shorter run off Le Super Diable. Also look out for La Valentin and La Fée.
On the 'frontside', which is westerly facing, the lower beginner slopes give way to a great selection of advanced runs and off-piste tree-lined opportunities. Somewhere to look to when there's low visibility.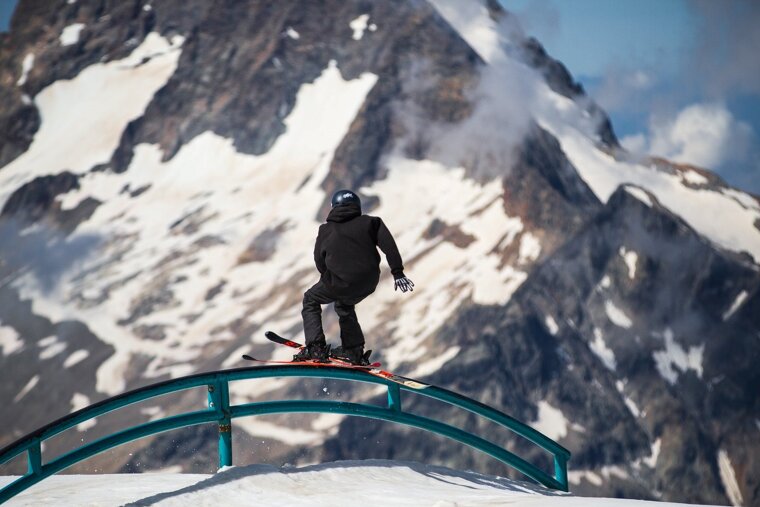 Snowparks in [locality]
If you are new to the slopes it's a good chance that you'll be wanting to try your first kicker or rail soon. Freestyle is great fun and if you want to learn there is no better place to head than the Les 2 Alpes snowpark. Classed among the top five greatest snowparks, the expert team of shapers at Les Deux Alpes have taken the snowpark here to another level, meeting the high standards of its riders and customers, making it one of the best in France.
Located in the Toura area at 2,600m, this 'freestyle land' has themed zones, all categorised by ability level:
Easy Park - not that easy actually...this area is rated difficult, very difficult and extremely difficult.
Slopestyle and Big Air - rated difficult and extremely difficult depending on which route you take.
Park d'Envers - this is the easier part of the park with something for intermediate level up.
Boardercross - running along the side of the park by the Toura chair.
Cool Zone - a chill-out area where you can do just that whilst watching the thrills n' spills above. You'll find picnic tables here making it a nice place to stop for a packed lunch even if you don't plan to venture into the park.
Best pistes in [locality]
Perfect for mixed ability groups and families, the Deux Alpes ski area offers a range of pistes that are easily accessed. With wide open runs and some steeper skiing for those looking for it, you're sure to find your favourite piste this winter. Plus Les Deux Alpes is one of the few resorts offering night skiing, an experience unlike any other.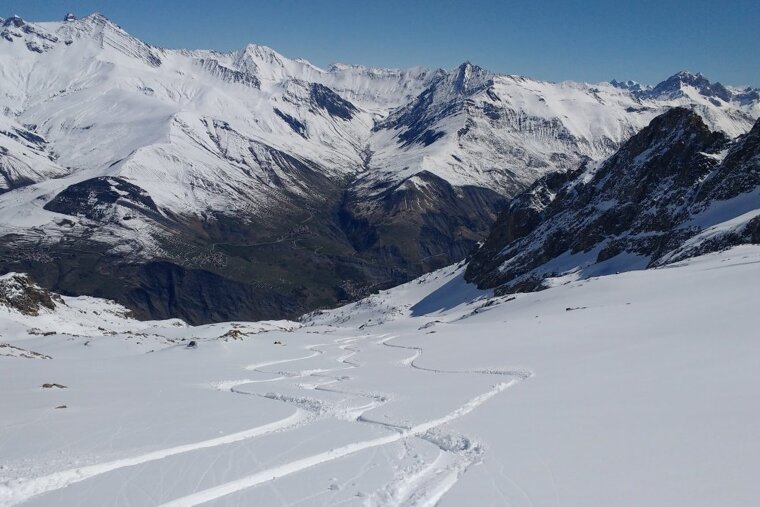 Off-piste areas in [locality]
Les 2 Alpes has a large selection of advanced terrain and off-piste skiing for those who like to venture off the slopes and marked pistes. The freeriding opportunities here are easy to find, and there are several off-piste possibilities on the northern side. The descents are basically of the same aspect as nearby La Grave.
The Grand Couloir Chutes are made up of three short, steep chutes accessible from the Bellecombes chair.
Clot de Chalance is more of an open bowl where you can take any route down to Les Gours piste and is accessed via the Signal lift, but be aware Chalance is avalanche prone.
La Dome Glacier from 3,400m is a long, off-piste run with a 400m vertical which takes you down to the Signal chair.
You also have L'Ecorchoir and the slightly easier Malaprisure offering over 2km of skiable vertical (in favourable conditions).
There is also the possibility to visit the famous La Grave off-piste area, which is just a 15-minute drive from resort.
La Grave
Whilst not everyone staying in Les Deux Alpes will head here, or even want to, it's worth a mention because it's a rare thing indeed to find an entirely off-piste resort. Built in the late seventies, the Télépherique des Glaciers de la Meije brings you up into the high mountains and towards the glaciers in about 45 minutes from the parking by the mountain guides area. Once up here you'll find yourself in fine company, freeriders from the world over journey here to enjoy this special mountain left entirely in its natural state. From the top of the TP you can take a drag lift (only open in favourable snow and weather conditions) to 3,550m where a single groomed track (the only one in the entire area) leads back down to the top lift station. If you plan to explore the glaciers, we strongly recommend you employ the invaluable services of a mountain guide - the risk of falling into a crevasse is very real up here.
If you're not into glacier skiing, the classic routes down from the télépherique are a powder hound's dream, beginning on the rocky ridge between the glacier and La Meije. Below you await open snow fields, bowls, bullies, natural half-pipes, couloirs, forest skiing, steep and mellow terrain - the options are endless.
Be aware La Grave is a special place, where the mountain demands no less than the utmost respect, and we cannot emphasise enough that knowledge and experience in off-piste skiing and snowboarding in variable conditions is an absolute must. This is not the place to put a foot (or ski) wrong! Once committed, the only way is down.
We strongly advise hiring an off-piste mountain guide, who will have extensive knowledge of the area and the mountains. Off-piste skiing/boarding is always at your own risk, and you should always make sure you are prepared before you head out. Check out our Avalanche Safety page for tips.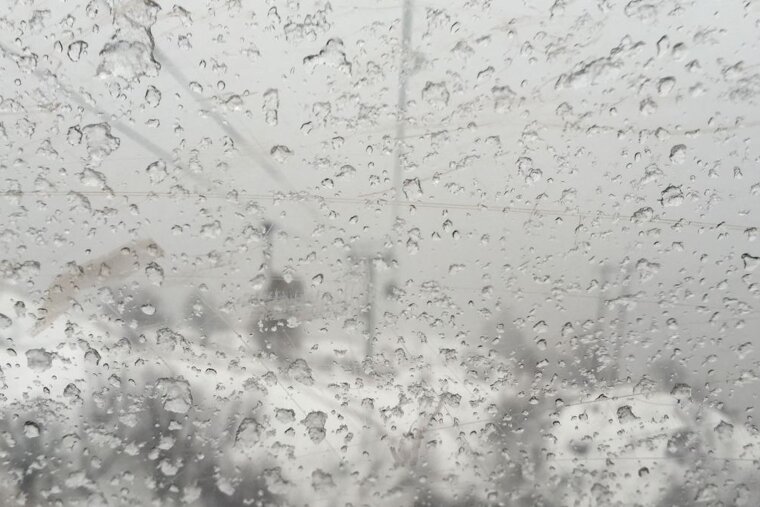 Bad Weather areas in [locality]
The high, open pistes can often lack the contrast required for orientation during white out conditions and slope and sky can blur into one.
The trick during a whiteout is to head for the pistes that are tree-lined, as they help provide definition when everything else seems to be white; the issue in Les 2 Alpes is that there is a distinct lack of trees due to its high altitude. If it's that bad head to the sports centre, pub...or go back to bed!
More inspiration...
Take a look at this year's Ski Pass Prices or, if you're not sure which pass to buy.