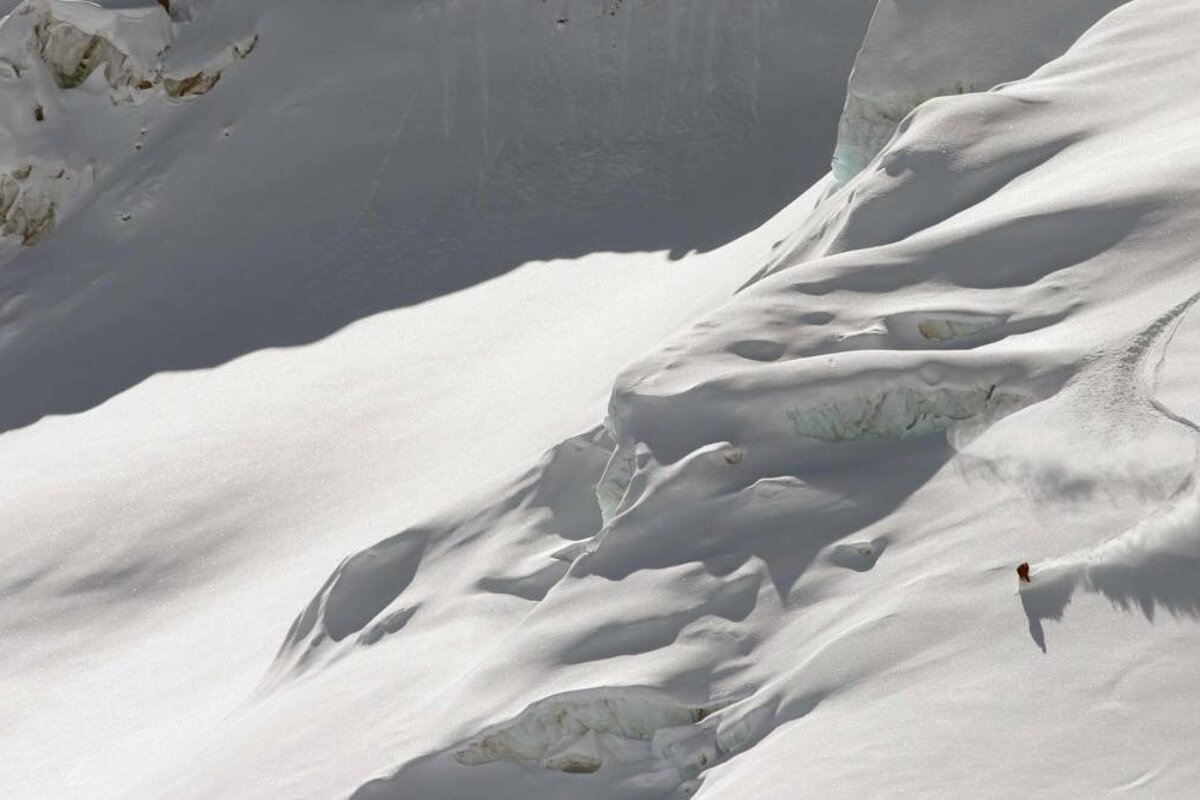 Off-piste Ski Areas in Les 2 Alpes
Discover the top Les 2 Alpes off-piste skiing
Les 2 Alpes has a large selection of advanced terrain and off-piste skiing for those who like to venture off the slopes and marked pistes.
Buy My Ski Pass Book My Ski Hire Book My Off-Piste Lesson Book My Mountain Guide
Within Les 2 Alpes ski area there are plenty of places to head on a powder day, as well as nearby in Saint Christophe and of course, the neighbouring and iconic off-piste mecca that is La Grave. Here are a few of our favourite runs and off-piste areas to give you some inspiration.
Grand Couloir Chutes
Take Bellecombes 6 person chairlift up from 2200m to the top. From here you can cut across the top of the Bellecombes 6 piste, you will find a ridge that you need to cross, though usually covered in snow. From here there is an open bowl to take you down to 3 short steep chutes, the furthest right being the hardest, as it is extremely hard to get into and usually requires you to straight line the whole chute. From here you come out directly under the lift again. Be aware that this area is very prone to avalanche.
Clot de Chalance
At the top of the Signal lift follow to the right of the piste, as the valley starts to fall away to the right stay to the left to gain safe access through a wide gulley - go to the right and you will end up on the edge of a 60m cliff! Once into the Chalance valley a bowl will open to the right and from here you can take any route down to Les Gours piste in La Fée valley. Be aware that the Chalance is very prone to avalanche and rocks linger just under the surface of the snow; it is wise to hire a guide here.
La Dome Glacier
Take the Funiculaire to 3,400m, from here turn right and join the blue traverse that runs along the side of the mountain. Where it turns left after 200m cut right and a huge face opens itself up, keeping left of this face is the only route down. This long off piste run with a 400m vertical drop will take you down to Signal chairlift, but be sure to get there early after a snowfall as it gets tracked out very quickly.
Pic du Diable
Take the Bellecombes 6 person chairlift up from 2200m, directly opposite the exit is a 50-minute hike straight up the face to the top. Be careful along the ridge on the right as it drops away to the right, keep left and from here you will be able to see the snowpark below. A steep top followed by a mellow bowl awaits you. This area is prone to avalanche, extreme caution advised.
La Fee
There are a number of good routes on all aspects here and they are all skied pretty regularly when conditions are good. There are marked but un-pisted itineraries on the west and east faces.
St Christophe
If you want to get really adventurous, there are lots of long descents possible to the village of St Christophe a little further up the valley from Venosc. If you're considering this, it's definitely recommended to go with a guide or friendly local ski instructor who knows the way, as you'll also need to get a taxi back to Venosc to get back to Les Deux Alpes.
La Grave
La Grave is connected to Les Deux Alpes from the peak of the Glacier at 3600m by a cat track and caterpillar-bus. In poor weather, the connection is closed and it is worth knowing the forecast before you set off as high winds and low visibility will cause the link to close and return to resort is only possible by taxi.
La Grave and Le Meije is an untamed ski area. There is only one lift, in three stages, in La Grave and none of the area is pisted. As such it is a truly off-piste resort and is not suitable for beginners or anyone with little or no off-piste knowledge. It is, however, a playground for more advanced tourers and powder fans and on a clear day after fresh snow it is an incredible place to ski.
Before heading off-piste
Before you head off piste, here's a few things you should be thinking about:
Take a course in avalanche awareness and practice the techniques learned. Henry's Avalanche Talk is one way to find out more with regards avalanche safety and there are several companies who run courses in alpine resorts throughout the winter.
Look at the weather and avalanche forecasts for France, reviewing the degree of local avalanche risk also. Henry's Avalanche Talk produces a translation of current avalanche conditions in English and PisteHors is also an excellent reference place.
Don't ignore advice given by local mountain guides or others if advised to ski a certain path, or to keep a specific distance between fellow members in a group
Plan the route carefully, evaluating all different options and assessing all elements of danger. Look at the timings for each route. Inform others of your route, and when you expect to arrive back
Attach your transceiver properly to you and DON'T FORGET to turn it on, test the signal is working, and make sure you have all the necessary equipment. (A transceiver is of no use if the user has not been trained in its use, it is turned off, or it is in a rucksack - unless you want just your bag to be recovered).
Read more about understanding avalanches & how to try to avoid them.