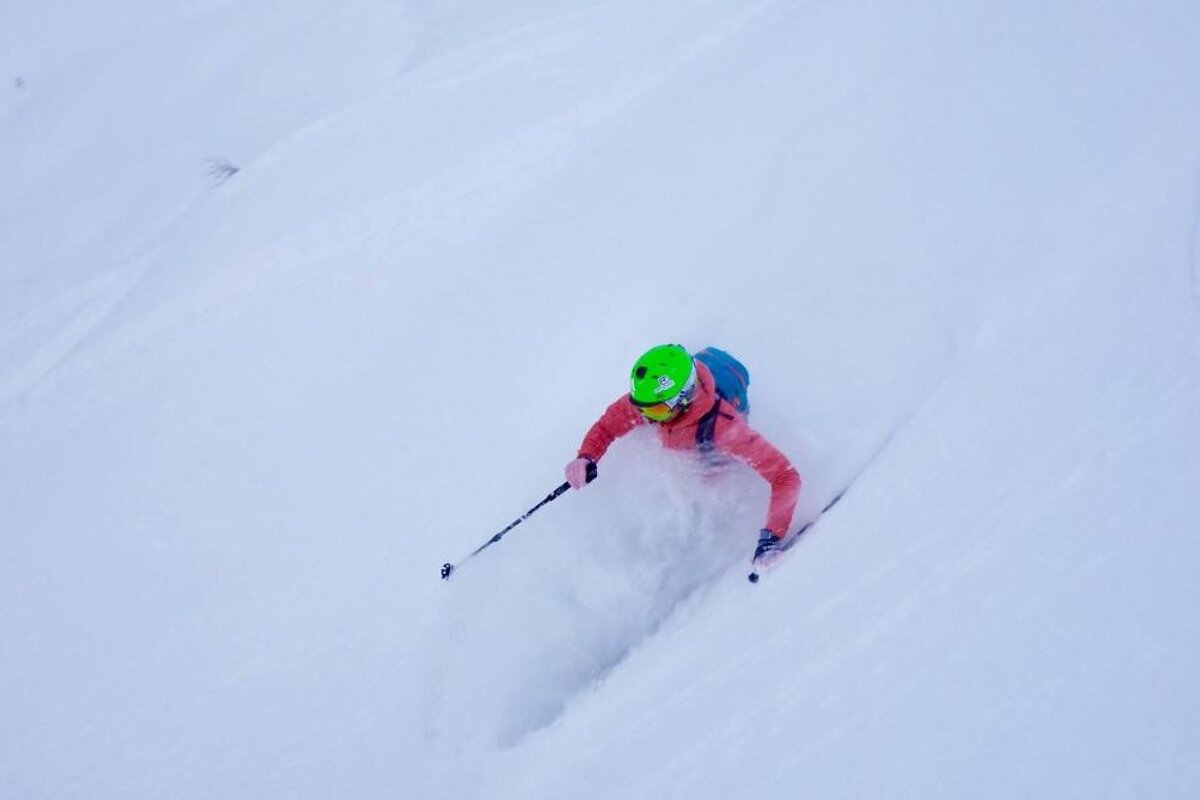 Latest Gear: Best Avalanche Airbags
The latest technology in personal protection off-piste
When they first appeared a couple of decades or so ago, I'm not sure anyone could have predicted just how popular avalanche airbags would become, but they are now a very popular sight in the backcountry in winter, becoming an accepted and almost essential item of avalanche safety gear. There are several different systems on the market from several different brands.
Although the way the different systems function may differ, they all work around the same principle of inverse segregation; the idea that bigger objects will end up closer to the surface. Airbags can also help protect the head and neck from trauma, a common problem in areas with trees and rocks. It's wrong to suggest that airbags somehow replace the probe, shovel, transceiver combo that all backcountry skiers and snowboarders should carry and be comfortable using. They also don't replace experience and sound judgement. However, they are without doubt a useful addition to the freerider's avalanche safety kit. Here are few examples of avalanche airbags on the market this winter.
Mammut Removable & Protection Airbag
Mammut have arguably taken airbag design and progression further than any other brand. The Swiss company have two types of airbag in their range; the Removable Airbag and the Protection Airbag. The Removable Airbag can be swapped from pack to pack depending on the activity and pack volume requirements. Mammut also licence this technology out to other brands so you'll see packs from The North Face and Dakine (amongst others) featuring this system.
Mammut's other design is called the Protection Airbag. You've guessed it - it offers more protection than the Removable Airbag as the airbag itself extends down the upper arms and wraps around the user more. It's a little heavier though and as some of the airbag is stored in the rucksack's straps they are a little stiffer than others. The Mammut Light Protection Airbag Rucksack has all the benefits of the Protection Airbag system but weighs just 1900g - very light for an avalanche airbag. It has a 30 litre capacity which is a good size for day tours and streamlined hut to hut trips.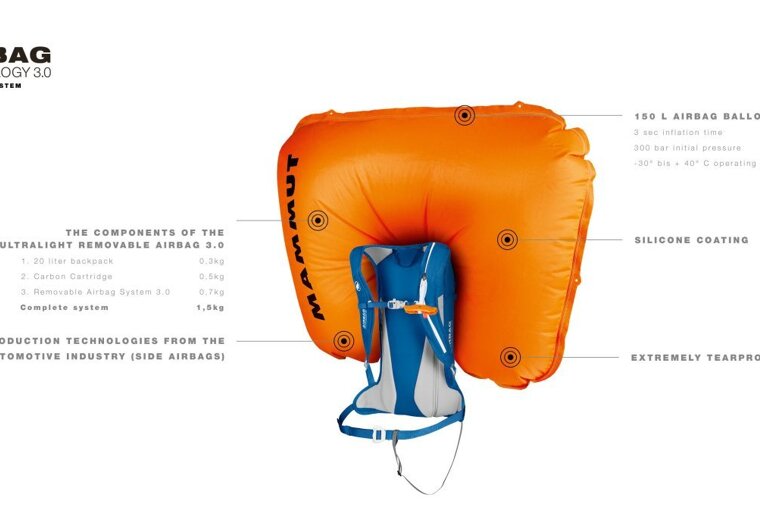 Ortovox Ascent 40 Avabag
At 40 litres, the Ascent 40 Avabag from Ortovox is one of the largest avalanche airbag packs on the market. That makes it idea for multi-day tours, and for guides and professionals who routinely need to carry more gear. The Ascent 40 uses Ortovox's own tried and tested Avabag system. The system is removable and can be fitted to any Ortovox Avabag pack, enabling the user to have multiple airbag packs for different uses. The pack itself features a comfortable and supportive back system for carrying heavier loads and light but durable fabrics for good resistance to abrasion. Skis can be carried diagonally and the Ascent 40 has axe and pole loops too.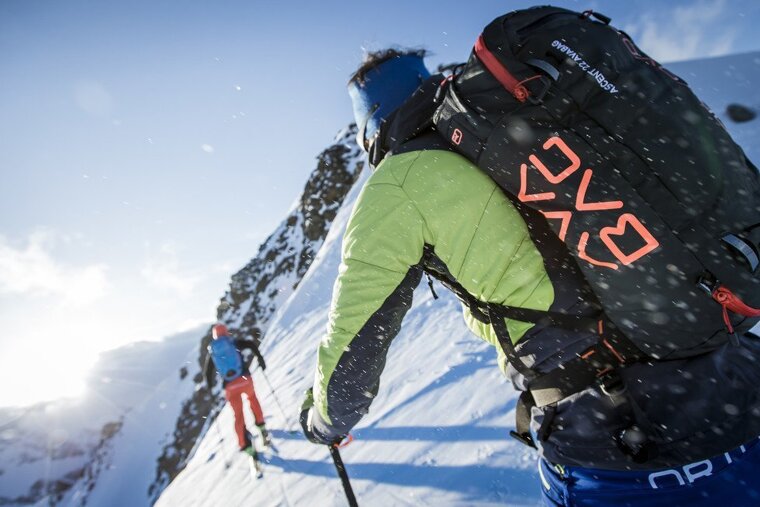 Black Diamond JetForce Airbags
The JetForce range from Black Diamond have been around for a few years now. JetForce packs use a fan based system and are one of the few the airbags that aren't powered by compressed gas. The obvious big advantage of these packs is that the user can inflate the airbag multiple times without having to change a canister. Airline travel is also less problematic too. New for this winter is the JetForce Tour 26L pack. It uses a capacitor based system that powers the fan to inflate the airbag.
The system is fully electronic and can be re-charged via micro USB, or on the hill using two AA batteries. The pack's mechanical handle can be switched from shoulder to shoulder depending on preference too. The standard features of the JetForce Tour 26 are just what you'd expect on a high end backcountry pack. It has a dedicated avy tools pocket, helmet holder, and a comfortable back panel and hipbelt. At 26L the JetForce Tour is a good size for day touring and serious freeriding.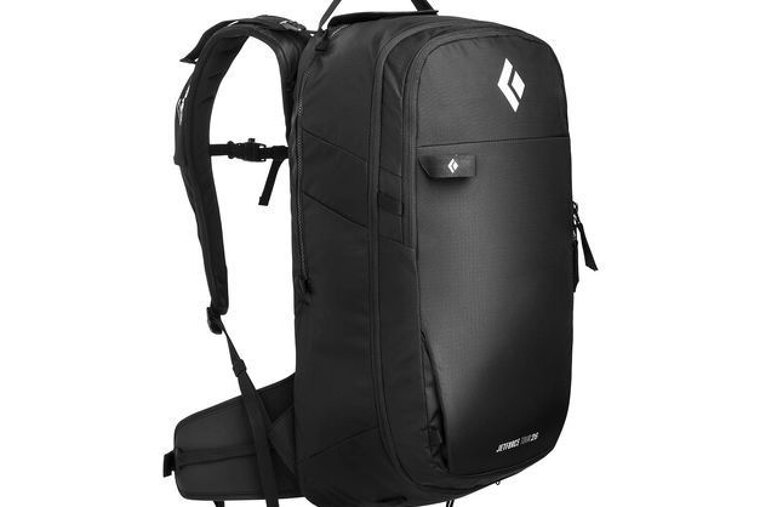 Jargon buster
Avalanche airbag
A rucksack fitted with an inflatable airbag that is deployed when the user is caught in an avalanche. The airbag is inflated by either a compressed air in a canister or a fan. The airbag helps the wearer to stay on top of the sliding snow and resist burial.
ABS
In the business of making airbags longer than anyone, their system uses a compressed gas cylinder that inflates twin airbags via a small explosive charge. Used cartridges can be refilled by returning to an ABS dealer. ABS produce their own packs and license their systems out to other brands. Brands using ABS technology include, but is not exclusive to, The North Face, Osprey, Dakine and Ortovox.
JetForce
Black Diamond's own avalanche airbag system that uses an electronic fan based system to inflate the airbag rather than the traditional compressed air cylinder that most other brands use.
BCA
A recent brand to the market that uses compressed air rather than gas, their airbags are amongst the most competitively priced out there, and the cylinders can be refilled at a variety of locations, including certified paint ball and scuba shops at little cost.
Avy tools pocket
An essential feature on all backcountry skiing packs. This is a separate pocket usually found on the front of the pack for the probe and shovel to be stowed. It should be easy to access and open in case of emergency use.
NB: Exploring beyond the ski resort boundaries is an amazing experience for anyone who's physically fit and has mastered the pistes well enough. There are, however, risks associated with venturing outside the safety of the marked/patrolled ski area, including awareness of your actions on those below you on the slopes. Mountain guides are professionally qualified and have extensive knowledge of the local terrain to provide you with the safest and most enjoyable possible experience in the mountains; as a visitor here we highly recommend you hiring one. Many ski schools also provide instruction in off-piste skiing, avalanche safety and mountaineering techniques. Make your time in the mountains unforgettable for the right reasons, ski safe!
Off-piste skiing and mountaineering are dangerous. The opinions expressed in these articles are very much time and condition-specific and the content is not intended in any way to be a substitute for hiring a mountain guide, undergoing professional mountaineering training and/or the individual's own backcountry decision making.