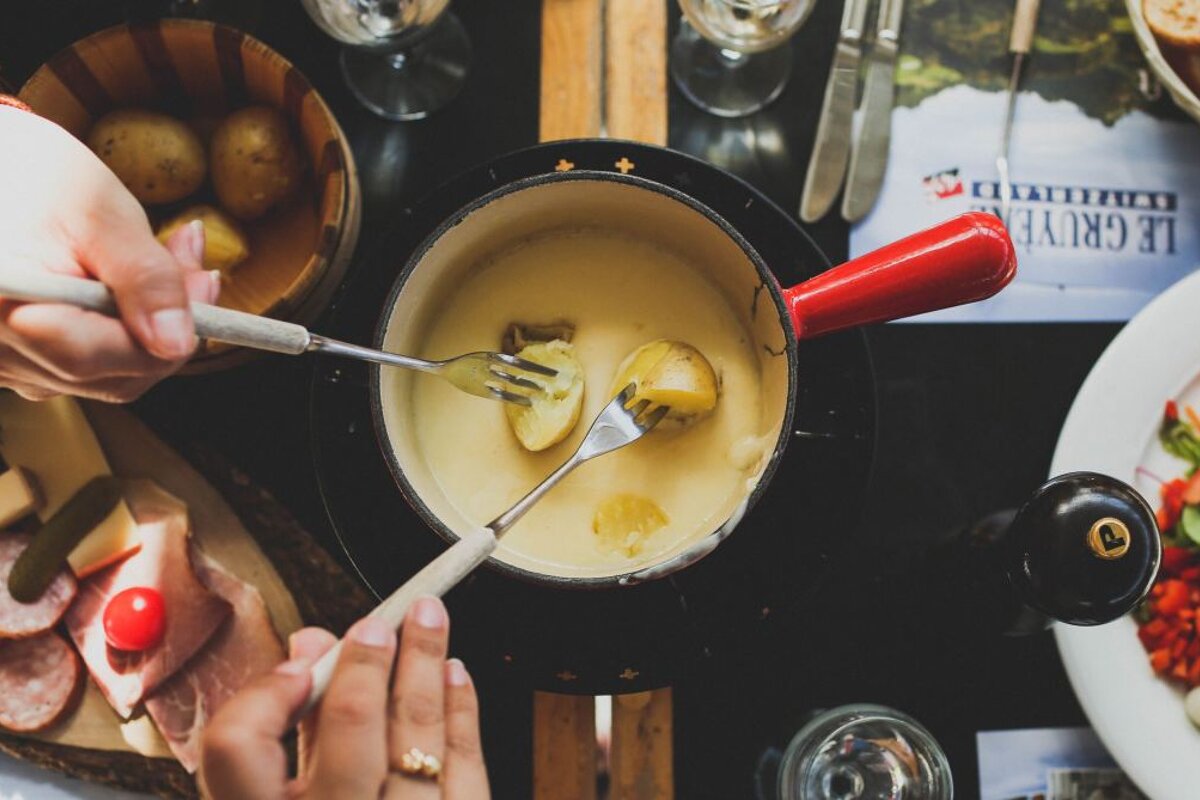 Best fondue in Les 2 Alpes
Where to go for the best cheese feast in resort
You'll find you're unable to resist the urge to eat half a kilo of molten local cheese.
Few meals are as emblematic of the Alps as a cheese fondue, and any Alpine ski resort worthy of the name will have a good selection of fondue restaurants. Les Deux Alpes is no exception. With dozens of restaurants offering a decent fondue it is not easy to pick the best.
The idea of a fondue is simple. For anybody unfamiliar with the concept, a pot of melted cheese and wine is brought to the table, along with a heat source to keep it melting through the meal. The diners dip cubes of bread into the cheese using special long forks. Variations come in the selection of cheese used, additional ingredients such as shallots or mushrooms, and the accompaniments offered.
Fondue is often seen as a Swiss dish but the same cuisine would have been found across the Alps on both sides of the border. The word 'fondue' is French for melted and was used in the 18th century to describe a dish made with eggs and cheese. The origin of the dish we know today is a little unclear. One story is that it originated with local farmers making the most of the food they had available in the winter – stale bread, old cheese and a little wine – to produce a hearty, appetising meal. A less romantic theory is that it was invented by Zurich restaurateurs catering for wealthy tourists. Either way, a fondue closely resembling the modern meal was described in a Swiss recipe book as early as 1699.
You are unlikely to find a bad fondue in Les Deux Alpes but the restaurants listed below stand out as offering something special.
Chez le Gaulois
Chez le Gaulois is undoubtedly top of the list for all things cheese. This small restaurant opposite the Marché U supermarket also doubles as a specialist cheese shop. There is very little on the menu here that is not cheese based. You can choose from multiple varieties of fondues, raclettes and baked cheeses, while non-cheese-lovers are left with a choice of two sausages. There are nine different fondues available, including a five-cheese version and the very unusual Super-Gauloise champagne fondue.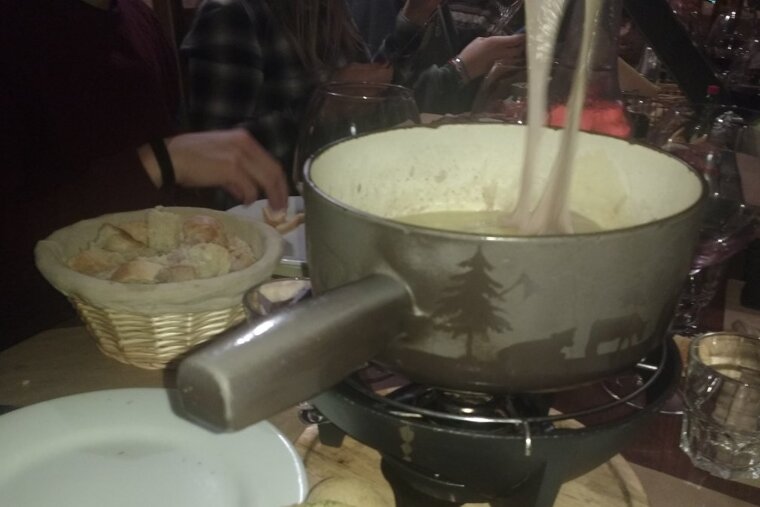 Le Trappeur
A little down the road, Le Trappeur is a justifiably popular restaurant which oozes authentic mountain charm. The fondues are excellent, amongst a menu filled with traditional mountain favourites and wild game dishes. The restaurant is usually busy, with a buzzing atmosphere and friendly staff. Both Le Trappeur and Chez le Gaulois are among the very few restaurants which allow fondues and raclettes to be ordered individually. This saves you from having to persuade a friend to share with you when the group all want to order something different.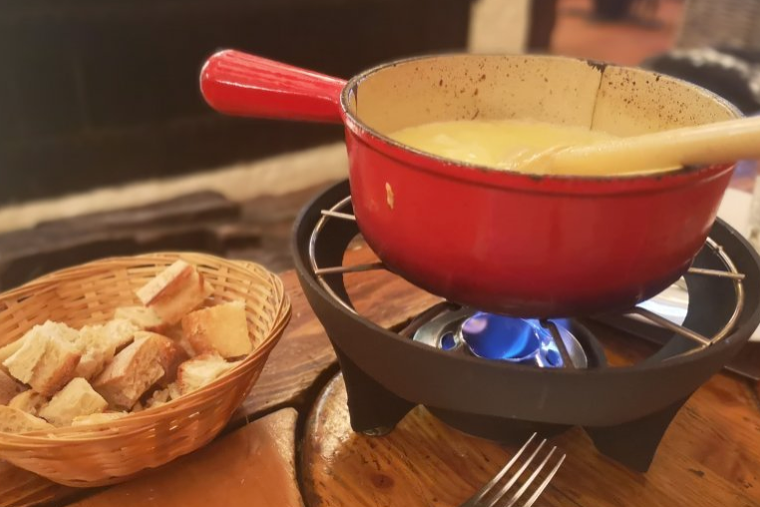 Crêpes à Gogo
Crêpes à Gogo, towards the Venosc end of town, does great crêpes as the name suggests but there is plenty more on offer including a very good fondue. They serve up a great range of Montagnard specialties in a setting that fuses rustic appeal with classic French style. With seats around an open fireplace, in cosy alcoves, or on the terrace, this is a great location to celebrate a special occasion as a couple or as a group, and a wonderful place to share a fondue with good friends.
Booking ahead is strongly advised, as all three restaurants are often full. If you can't get in, other good fondue venues include L'Alisier near the Place de Venosc, La Porte d'a Côté close to Chez le Gaulois, and Le Cellier opposite the Red Frog.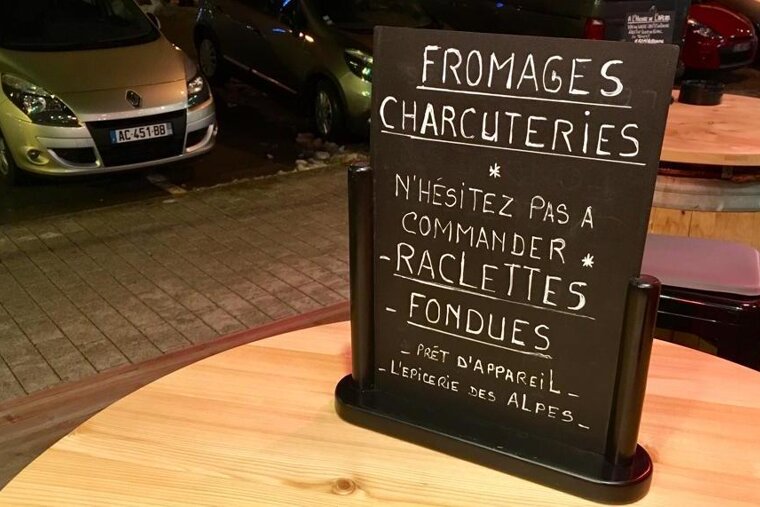 Make your own fondue
Whilst a cheese fondue in a restaurant can be a great night out, hosting your own fondue night can be even more fun. If you are in self-catered accommodation, everything you need is readily available in town. Most supermarkets and epiceries – shops selling local farm produce – will loan you a fondue set if you buy the cheese from them. The supermarkets are cheaper but the specialist epiceries and cheese shops will offer a better choice of good-quality, local cheese. You can find plenty of recipes online but the method is fairly simple. Add a little cornflour to your grated cheese, heat some white wine in the fondue pot, and gradually stir in the cheese so that it melts into the wine. Serve with cubes of bread for dipping. You can add potatoes, charcuterie – cold meats, pickles and anything else that takes your fancy.
However you decide to enjoy a fondue, this is one Alpine tradition you won't regret trying while you are in Les Deux Alpes.