On a blisteringly hot day, or even when it's raining, heading down the river in the Veneon Valley below Les 2 Alpes is a great way to spend a few hours, or most of the day depending on your plans.
On the morning I had arranged to go hotdog rafting the heavens opened and Les 2 Alpes was subject to a biblical rainstorm. Since I was getting soaked anyway I thought a little more water couldn't hurt and it turned out that more rain actually created better conditions in the river too, win win.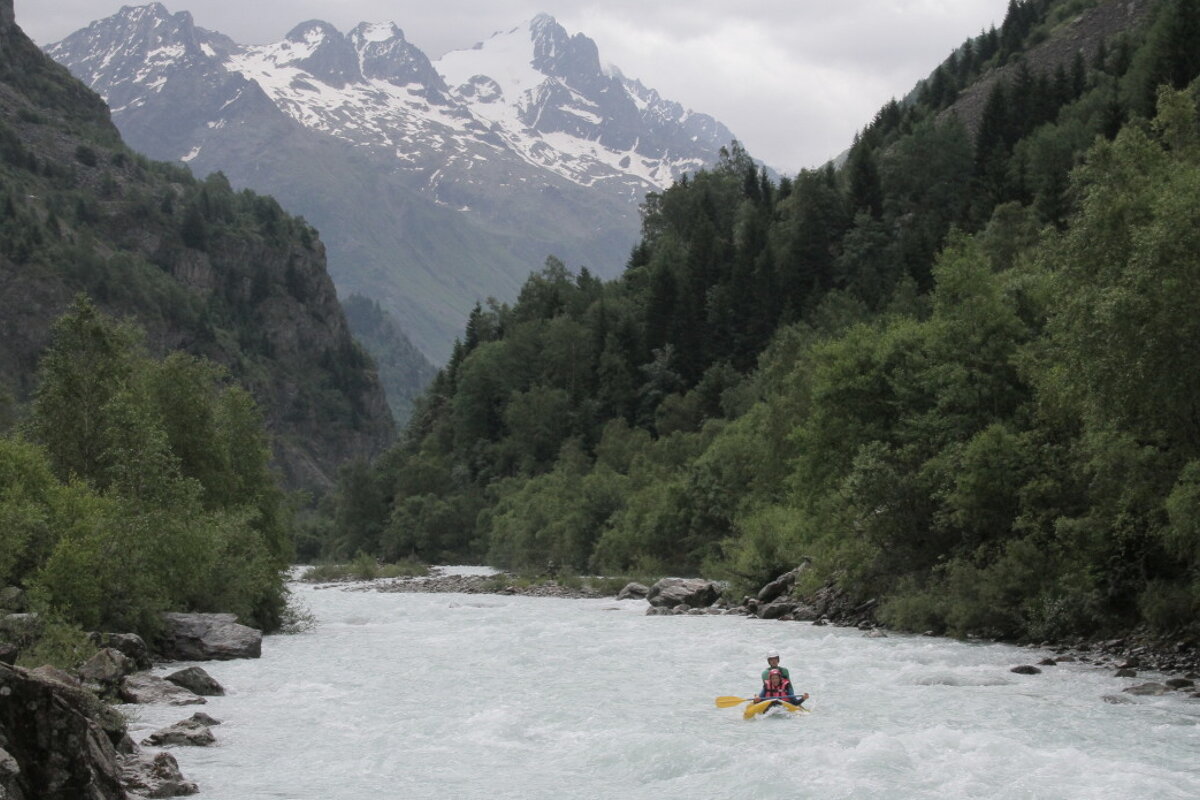 White water rafting, hotdog rafting, kayaking and hydrospeeding all take place down on the river not far from Venosc, which is only a short gondola ride and a minibus drive away. My guide collected me at a designated rendez-vous spot just across the road from the base of the Venosc gondola, and within about 5 minute drive we had reached the base camp of the rafting centre.
It transpired that a large rock fall around 15 days prior had cut off the road leading to the original rafting base so they had all moved camp down to a gite and restaurant a little further down the road. You can't miss it when you arrive, with all the rafts and boats stacked up to one side and a nice little seating area for a quick cup of coffee when you get there. To the other side of the gite was the check in desk and the area where you get kitted out with your wetsuit, boots, helmet and life vest. A changing area is provided as well as a place to store any bags or shoes you don't want to take with you.
I met my guide and he explained that we were going to be going down river with a large group of people who were doing the more traditional white water rafting, whilst we were going to be taking a "hotdog" raft. This is also an inflatable craft but only built for two people and, you guessed it, looks uncannily like a large hotdog.
Once everyone had arrived and was suitably kitted out, we jumped in the minibus to get to the launch point about 500m up the road. Our little hotdog was first in the river, with the four bigger rafts behind us. As we sat bobbing up and down on the river waiting for the rafts to fill up, it seemed that the river was flowing incredibly fast but as my guide advised me, this was only the start of the summer season and as the hot summer conditions melt more of the glaciers way above us, the more the river levels rise. The result of this is more waves and more water, but also that there are less rocks to contend with which I'd find out for myself a little further down stream.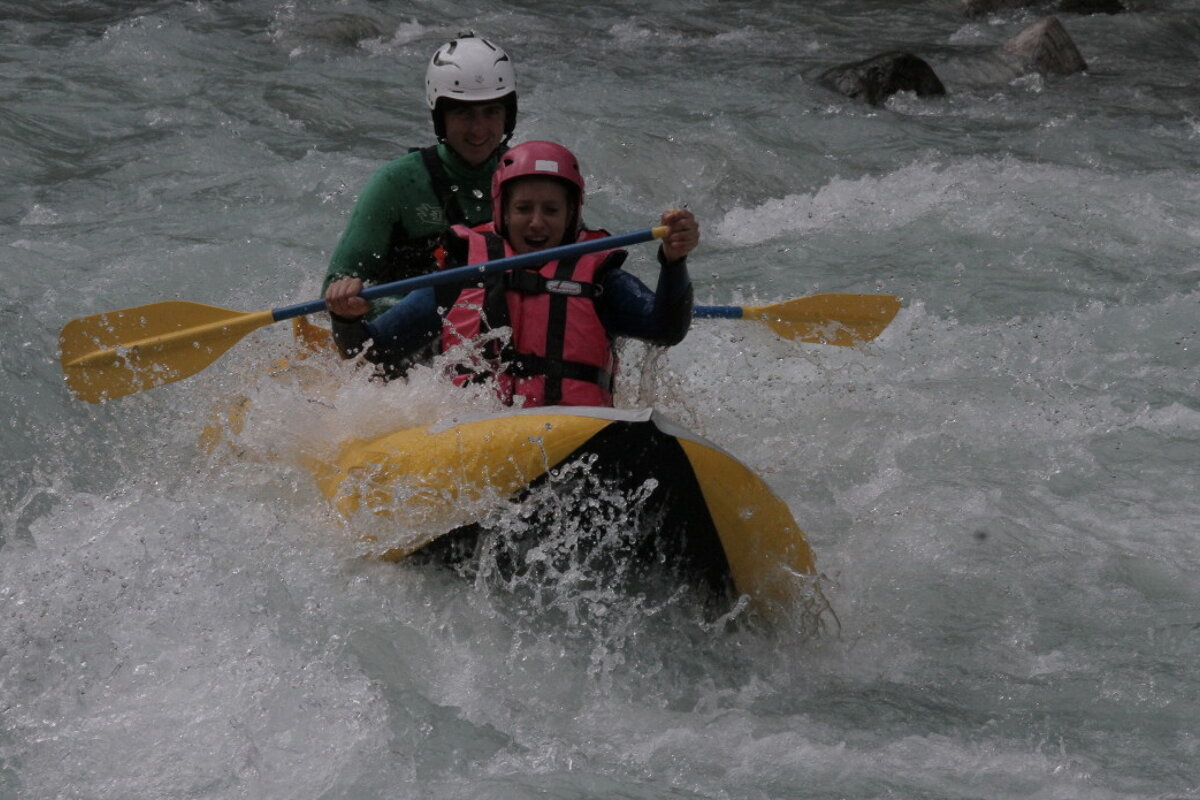 The only thing you need to think about once you've set off down river is to paddle forwards (avant) or backwards (arriere) when your guide shouts to you. The majority of the steering is done by the guide, or just by him knowing the flow and direction of the river and letting you float down the rapids - sometimes forwards, sometimes backwards, or in circles.
The bottom of the raft is very thin, so on occasion you do feel the odd rock bumping underneath you, and sometimes (spoiler alert) the guides aims straight for a smooth looking rock and you ride up onto it slightly, or bump like a bumper car around rocks at the side of the river. There was only one occasion where I thought this might have resulted in me taking an impromptu swim, but that was only because I had changed to paddling on my knees from a sitting position, which made me a little more top heavy in the raft.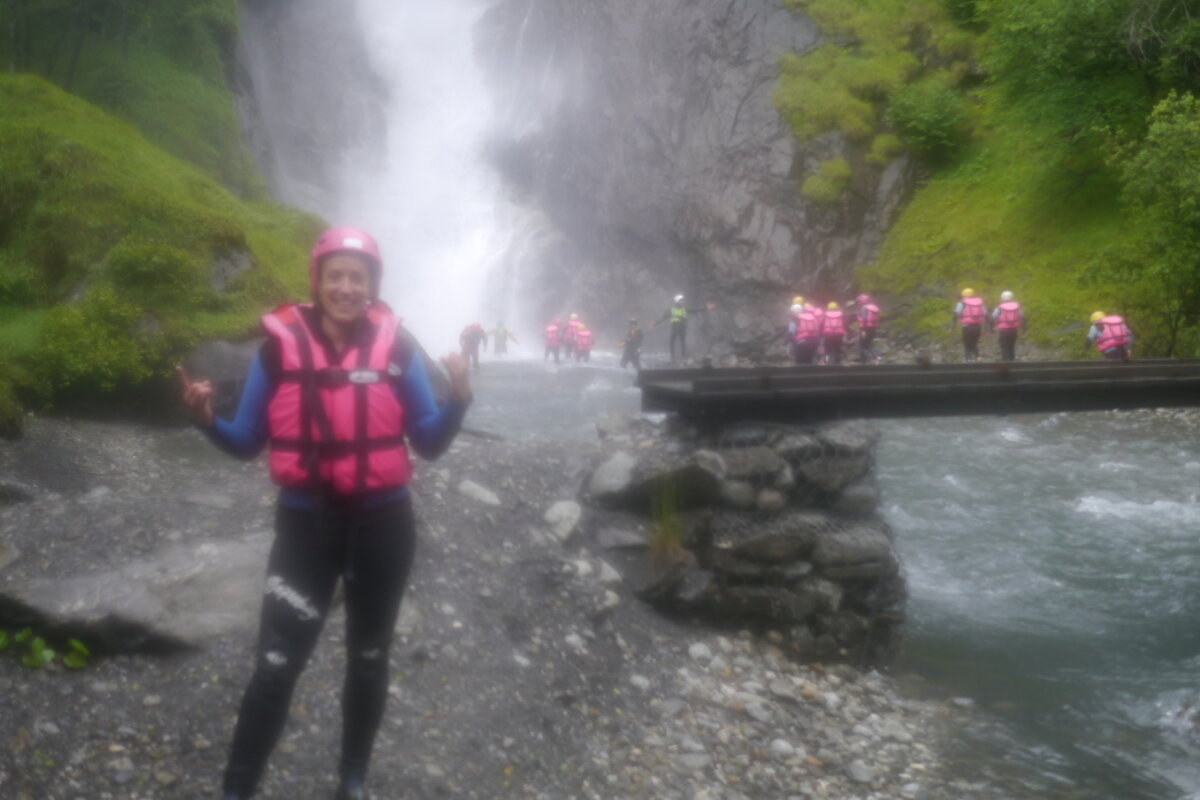 We spent around 40 minutes on the river in total, which included a chance to get out and swim and get under a large waterfall as well as jumping in the main river and 'swimming', which involves you lying on your back with your feet downstream and letting the current take you. The guides keep a close eye on you in case you stray too far from the bank on your swim as I did (I didn't really know how to steer myself in the river) but with a reassuring tug on my life vest they directed me back to a shallow pebble bank where I could stand up again.
The waterfall we swam under quite literally takes your breath away with the force of the down-draught and spray. It's pretty exhilarating and definitely an added bonus to your trip down the river. You don't have to swim if you don't want to, just being there hearing the roar of the water and feeling the spray on your face is enough for a lot of people.
I was grinning like a Cheshire cat by the time we finished and watched with a pang of jealousy as the group of rafters headed back up to the start again for another go. It's definitely something I'd like to do again, or maybe next time I might try the hydro-speeding...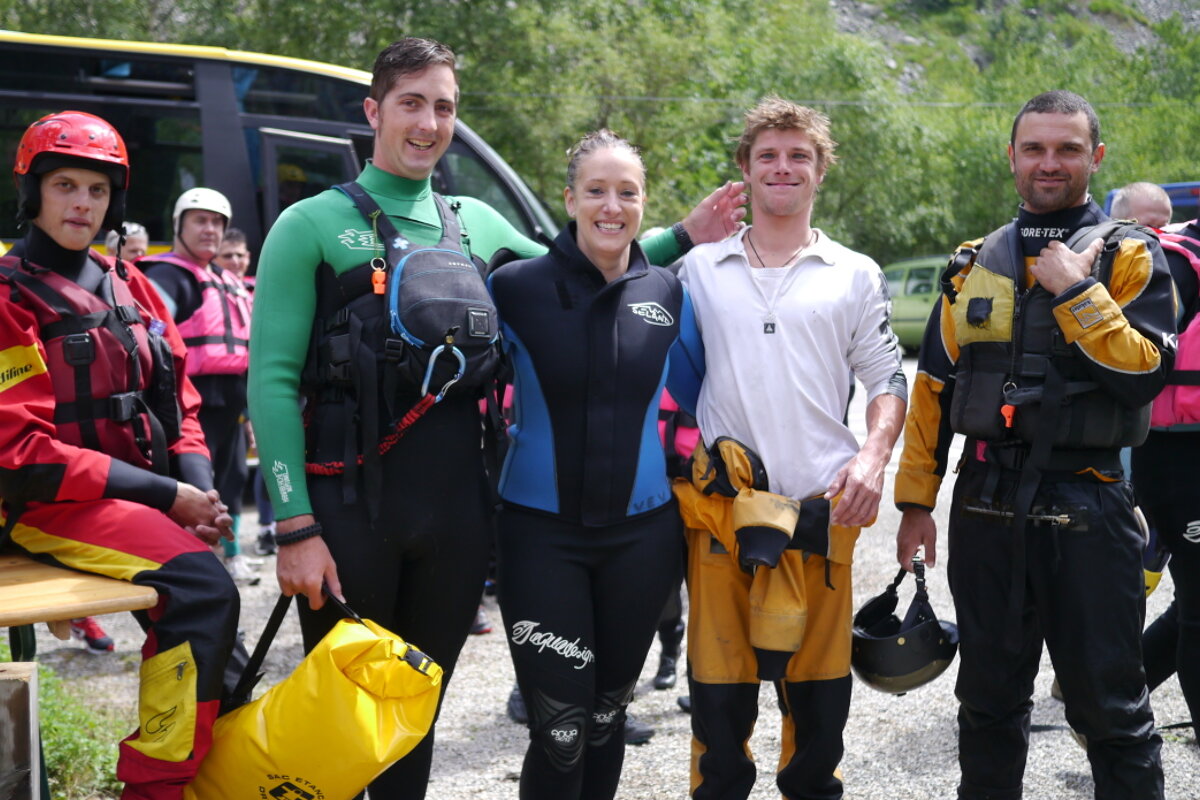 A photographer follows you down river on his scooter for the whole time you're in the water and as an optional extra you can buy all the photos you star in for 15 euros at the end. You can take your own camera with you in a dry bag that the guide keeps safe, but I can guarantee you'll be concentrating more on paddling and swimming than taking photos!
If you're considering doing one of the activities on offer here with your family, rafting in a 4-6 person raft can be done by children 10 years and older. Hotdog rafting is possible for children 14 years and older and hydro-speeding is more challenging and should only be undertaken by strong swimmers. Also, don't forget to take a lift pass with you, or you can buy a return trip on the Venosc gondola for 5.90 euros.
It's advisable to book ahead for all of these activities as they are such a popular thing to do in summer. You can book through ESS, who also offer a large range of other summer activities and can help you find accommodation too if needed. Other options include being taken down to Bourg d'Oisans by ESS for a 1.25 / 1.5 hour calm white water rafting trip which takes you under the bridges of the town. Children from 7 upwards can take part or children from 4 upwards with adult supervision. Find out how to contact them.
Services
Activities

Rafting

Watersports
More Les 2 Alpes Insights...